This fabric has been sitting in my fabric stash for a while now: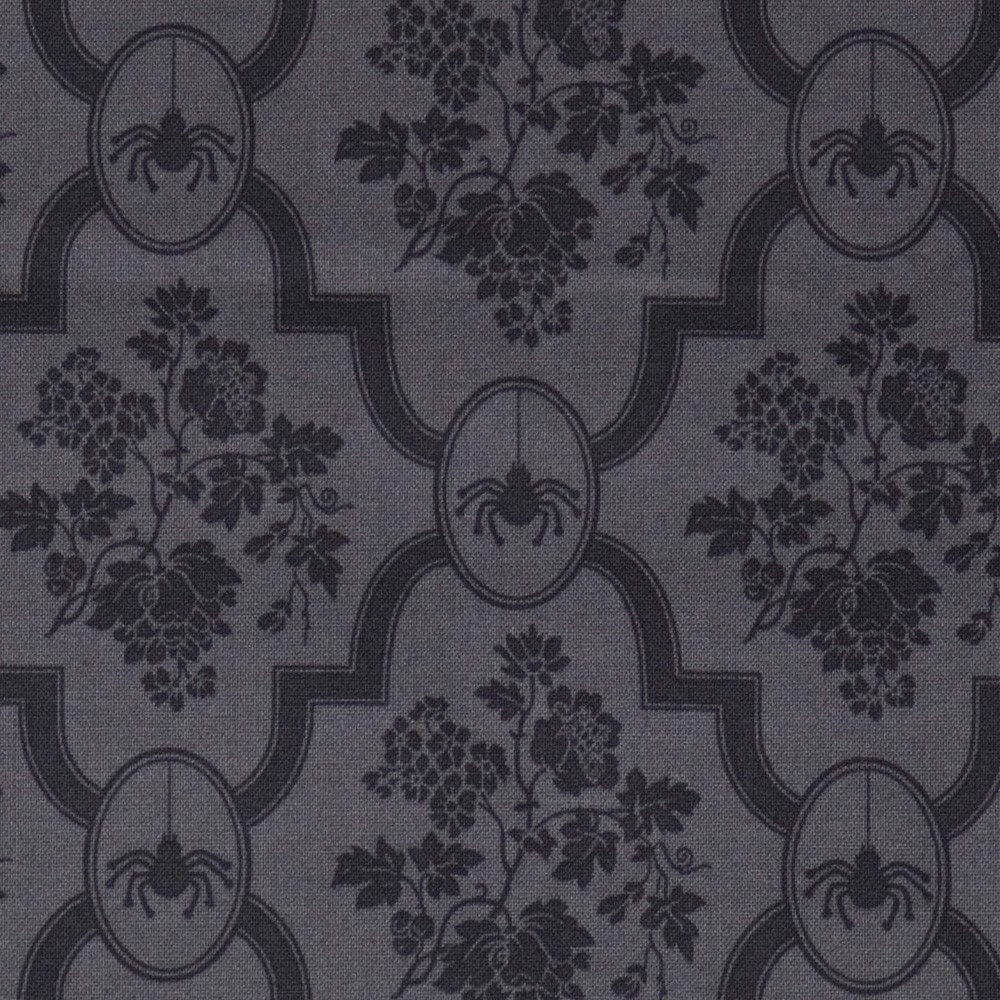 That's Haunted Mansion by Moda and it is now out of print. When the designer Halloween fabrics come out (usually in June or July), I usually don't jump on them unless I can't live without them (such as the Riley Blake Eerie Alley fabric from two years ago that featured
multi-colored hearses
- I quite literally squealed with joy). This was no exception: though I'd seen this for sale in several stores and on eBay, I was kinda "meh" about it, especially at designer prices. It grew on me though, and when I saw it on eBay at clearance prices, I snapped up two yards. I had no particular plans for this fabric, but at that price, I couldn't resist.
The fabric has been sitting in my stash since September. I was consumed with other projects and didn't give it much thought. Then when I was finishing up scrubs for my sister a couple of weeks ago, I saw it sitting on top of a trunk, just barely peeking out from some other fabrics I'd purchased (probably under the same "I don't know what I'll do with it, but I have to have it!" philosophy). The idea of it bounced around in my head until I had a "by Jove!" moment - a matching skirt and vest! How could I go wrong?
Well, I had only bought two yards and getting more would be tough, so I had to pick patterns that would be able to squeeze into that tiny amount. A pencil skirt seemed ideal, and well, there isn't a whole lot of variance in vest patterns, so one would be as good as pretty much any other. I went digging through my embarrassingly large pattern collection and came up with
Simplicity 9825
(since out of print) and
New Look 6008
.
First off, I'm going to apologize for the lack of in progress pictures. I was considering starting the blog as I was constructing these pieces. I will post finished pictures later.
The skirt comes in three lengths and in two fullnesses. I made the medium length in the narrow fullness (view B). With my long legs, I figured it would hit me about mid-knee. For work, I would consider the top of the knee as short as I'd go, so it seemed like a good plan. The recommended fabrics are heavier than the quilting cotton I used, but whatever.
This pattern was pretty simple. I left off the trim and faux pockets. The hem length was 1.25 inches, but I halved that to 5/8 - lo and behold, the skirt hit just below the knee (yay). I didn't make the vent as long as the pattern said - shortening it by two inches - and I am able to walk around okay, so I guess that was a win too. Everything about this was win except for the stupid dumb horrible awful mistake I made. I want to stress that this was in no way the fault of the pattern, but all me. Here goes: I was only half paying attention and inserted the zipper on the side instead of the back. That wouldn't have been the end of the world (some skirts do zip up the side, after all), but I panicked and didn't think of the side zip. Instead, I began frantically (and not as carefully as I should have) ripping out the zipper, and ended up snagging the fabric a little. It isn't too noticeable, but
I
know it's there. After the zipper was inserted into the correct place, everything went swimmingly.
This would probably be a good pattern for beginners. The only real difficult part is inserting the zipper.
As for the vest, I made view A (the lilac-colored one in the lower corner). Now, half the reason to wear vests is so you can sport a dapper pocket watch, and those are flaps without pockets. As always, I modified the vest so it included real pockets. This is
a giant pain in the ass
, and that's probably why the pattern just has flaps instead of real pockets. Even knowing what I'm doing and having done the pocket insertion several times, the two pockets took longer than the rest of the vest combined. Urgh.
The rest of the pattern went smoothly. As I said, most vest patterns are pretty much the same. The only real differences here the straps (meeting in the middle) and the top-stitching. Honestly, I really liked the top-stitching because it meant no under-stitching. And even with under-stitching, sometimes vests still won't lay flat. One quarter of an inch seems a little large, but one eighth would have been too small. Eh, whatever. It looks good. The other modification I made was the straps: I shortened them by half an inch. This is a typical adjustment for me and shouldn't be seen as the fault of the pattern.
I wouldn't recommend this pattern to someone just starting out, but a beginner with a couple of projects under their belt could probably handle this.
Will try to post pics tonight!